Did you think that eurodance was dead? If you did Soundstream is here to change your mind with their latest release Summer Nights.

SOUNDSTREAM is a HandsUp/Eurodance music band from Kiev, Ukraine, established in 2008 by Denis Timish and Alexander Bulanov.
Their first song entitled "Feels Like Heaven" was out on 17/09/2008 and this date is considered as band's birthday. Since that time SOUNDSTREAM self-released several albums, hit different radiostations around the world and experimented with different genres of electronic music from HandsUp and Eurodance to Dubstep and Electro. Like any other band, SOUNDSTREAM faced different problems on it's way to the stars, which also resulted in line-up changes. Currently SOUNDSTREAM is:
•Ann Pazyura (lead vocalist)
•Yuriy Muktarov (rapper/MC)
•Denis Timish (keyboardist/producer/songwriter)
Since 2016 SOUNDSTREAM officially releases worldwide under DMN Records (Germany). The band was twice a winner of The Akademia Music Awards in Los Angeles, California.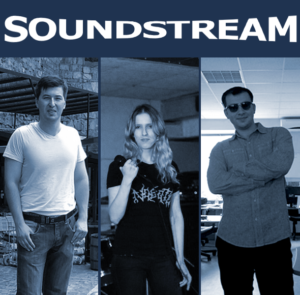 SOUNDSTREAM's history begins in 2008, when two students of the Kyiv Polytechnical Institute, – Denis Timish (DJ FatCat) and Alexander Bulanov (Bulya), – decided to create a music band. They thought about this back in 2007, but officially it's all started on September 17, 2008, when they recorded their first song called Feels Like Heaven. This song reached #56 of 18000 in Soundclick.com Dance Chart and this result couldn't fail to please the band!
The second song was an instrumental track Rainy Day, which was recorded in the middle of November. Shortly, after recording this track, Andrew Sinenko (also known as GungE) joined the band. At the end of the month the song Save You was recorded. It was the first song of SOUNDSTREAM, which featured Kate Lesing on vocals. Later, in early December, 4 Ever & 1 Night and Don't Let Me Go were out.
Music ideas came one after another, but in the second half of December the band members were very busy with the studying (the end of the semester was near), so they hadn't enough time for music. But despite all difficulties in a few days before the New Year they recorded a new song entitled See Me Now, which is considered one of the best songs of SOUNDSTREAM! This song also had some success among Singaporean dance music fans.
In early April 2009 SOUNDSTREAM recorded it's debut album entitled Number One, which contains all band's tracks recorded since 2008. This album was very successful on the Internet.
The band didn't stop at this point. They immediately started working on a new material. But there were many disagreements between Andrew Sinenko (GungE) and other band members. Since the end of 2008 they argued about many things. That's why on April 23 DJ FatCat and Bulya decided to exclude Andrew from the band (but in fact they no longer co-workied with him since the beginning of the year). So, the work on a following album was going on without Andrew's participation.
Partytime, the new album, was out in the end of May and included 12 new tracks, among them are Could I Feel This Way Forever, Do You Feel My Love, Everlasting and others. A bit later a megamix-album entitled simply Megamix was released. It contained a mix of the best band's songs from the two previous albums. And after some time two new songs were recorded – Yesterday Becomes Tomorrow and Planet Beats & Bass, which were rather different from the previous tracks of SOUNDSTREAM.
In the mid-June Bulya went to USA for 2 months, so the band had to temporary stop it's activities. But it didn't take a long time. In September the guys presented the Remixes Collection, a compilation, which contains 12 remixes of the SOUNDSTREAM's songs from the previous albums. The same time they were also working on their third album (Megamix and Remixes Collection are not considered as albums), release of which was forecasted by the songs Yesterday Becomes Tomorrow and Planet Beats & Bass. However, after these tracks were out, it became clear that the band started moving away from it's original music style. And the new album, entitled Midnight Hour, which was released on October 1, has confirmed it. The sound of this album was rather different from the previous SOUNDSTREAM's albums. Now their music style was something Scooter-like, with the exception for One By One, a Dancecore/Hands Up song. But despite the change of style, this album had considerable success. Planet Beats & Bass and Better Way (New Version) even got into PROMORADIO rotation. The songs Feel The Rhythm (feat. Moro), One By One and Yesterday Becomes Tomorrow also enjoyed popularity.
Inspired by the success of the album, band members started to write new songs after short time. But despite the fact that the change of music style has gone in favor of SOUNDSTREAM, the band decided to return to it's classic sound.
In the middle of October a vocalist Daria Bezkorovayna joined SOUNDSTREAM. They started working on the first song with her participation. But due to the epidemy of influenza the band had to postpone it's plans until the end of November. However, neither at the end of November nor in December the work on this song wasn't completed. Band members were too busy with the studying after the quarantine, and actually had no free time.
In February 2010 Save You (New Bass Club Mix) was played on dance radioshow "COREHEAD" at 109fm.net. And at the beginning of March Don't Wanna Stop 2010 (Hard Club Mix) was included in the mix of DJ King Alex (Albatros Music Company) from Ivano-Frankivsk, who is the author of the mix series such as trackANDmix, Dancestream and others. After some time SOUNDSTREAM recorded the first song with Daria Bezkorovayna, which was entitled Story Of My Life. But unfortunately this song also became the last song with her participation as Daria unexpectedly decided to leave the band. Of course DJ FatCat and Bulya were not ready for such turn of events. They had to apply big efforts to continue working. Since Story Of My Life got in a following mix of King Alex and since Are You Ready? was played on DANCESHOW "COREHEAD", they understood that they should go on. And at the beginning of June SOUNDSTREAM presented its 4th album entitled Dancefloor Generation. This album was made in the best traditions of the first two albums. In addition, the music became more professional and diverse, each song on the album has its own special character. Some tracks contain Electro-House elements. But at the beginning the album had very little success. Number of downloads was rather low, and actually no one was interested in promotion. But after some time Dancefloor Generation got big success at the popular Russian torrent tracker RuTracker.org, where it got more downloads than Number One! Moreover, the track Clubland had success in the UK.
After Dancefloor Generation was released, band members decided to take a little break as it already was summer in full swing. The work on a new material began at the beginning of autumn, and after a while SOUNDSTREAM was ready to present some new tracks, among which a rousing song SOUNDSTREAM Plays 4 U!, which got broadcasted at the popular Internet-radiostation Clubberry.FM! In late October Anna joined the band as a vocalist, and after some time they recorded another outstanding song entitled One More Time.
Now the band is actively working on a new album and preparing to release a new album.
Follow Soundstream and listen to Summer Nights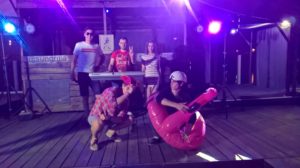 https://www.facebook.com/soundstreamband/
https://www.beatport.com/release/summer-nights/2300581
https://open.spotify.com/album/7IMjmoIYbvfirTanBgphCr
https://itunes.apple.com/ca/album/summer-nights-ep/1389791588
https://www.junodownload.com/products/soundstream-summer-nights/3780506-02/
https://www.feiyr.com/x/Soundstream-Summer-Nights