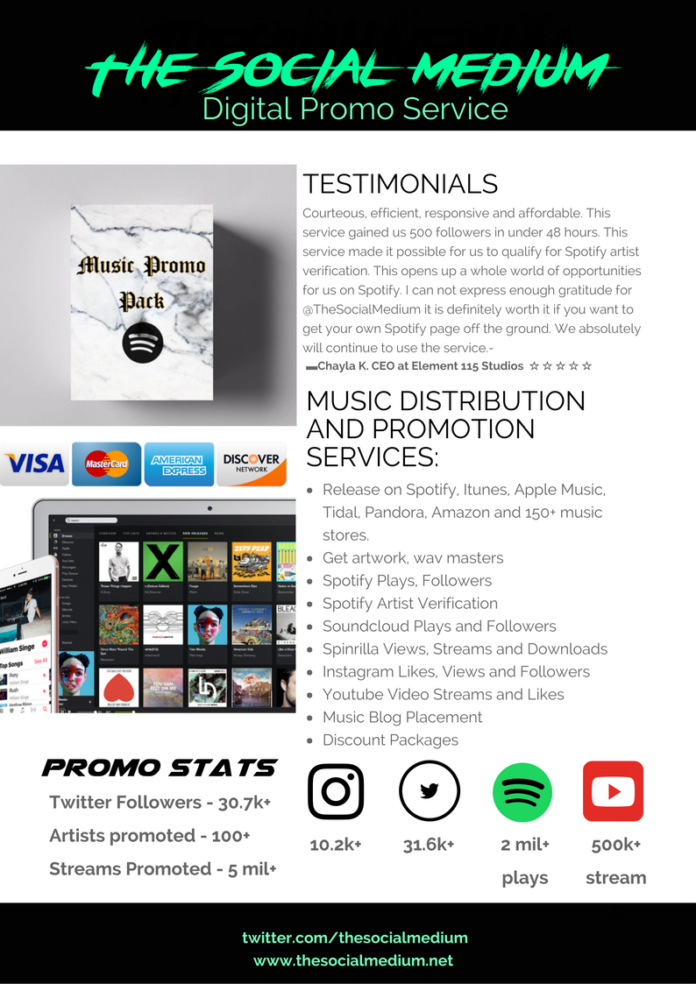 The Social Medium is an unparalelled music brand marketing agency that offers high end Spotify and social media marketing services for music artists as well as business and personal brands. With guided hands on strategy development and promo packages, The Social Medium bridges the gap between indie and major label artists to create long term and opportunities.
what made you start Socialmedium?
The Social Medium was started to help music artists and brands devleop their education and strategy for industry relevant practices at their own pace. Our focus is to help add value as many was possible with promo strategy and consultation.
Are the plays and followers real?
Plays and followers are real to help increase web presence and search engine visibility
Any sucess stories you can tell us about?
The Social Medium has worked with countless indie artists and even major labels and artists like Fetty Wap and RGF ISLAND in breaking records and establishing positive online reputation.
What advice do you have for a new artist ?
The biggest advice for new artists is to focus on long term goals and to establish what the audience will see and experience beyond the music being released. What people see and the reasons you give them to care is what ultimately seperates low end music releases from high value. Contact The Social Medium with questions and for consultation.
thesocialmedium.net can be reached here.